---
THE LITTLEST LAMB-PAIGN
Considering the tough economic times that we are all currently facing, The Littlest Lamb would like to ask for just a little bit of your help. We are offering the option to donate as little as one dollar per month ($12 a year!) to allow supporters of all ages and incomes to partake in this unique orphanage project. The procedure is simple and automatic, with no additional fees.
Click Here and make your first donation today!
Our goal this year is to sign up 5,000 people for online monthly credit card donations, starting with donations as low as $1 per month. Think about that...one dollar per month. That's less than 3.3 cents a day!
You may be thinking, "How can only $1 a month make a difference?" If one person were doing it on their own, that would be a concern. But if thousands stand with us and give just a bit, that little won't be so little any more and will go a long way towards making this dream a reality. We know it's an ambitious goal, but we believe we can achieve it with your help. With that in mind, know that no monetary contribution is too small (or too great, for that matter!) for the lambs.
Please feel free to share and pass the word along to your families, friends, and co-workers. Parents, encourage your children to initiate the campaign amongst their peers so that they are encouraged to learn and appreciate the importance of charity and making a difference at an early age. It is never the wrong time to get involved!
Please Note: Your contribution is fully tax-deductable in the U.S., as the Littlest Lamb is a registered 501(c)(3) not-for-profit organization. You will receive a tax statement.
*****************************************
Win a FREE Tee and Hoodie!
Tell a Friend about The Littlest Lamb $1/Month Campaign
Win a long sleeve t-shirt when 10 of your friends sign up for monthly donations, and a hoodie when 25 or more sign up!
*Make sure they type your name when asked "Who told you about us?"
(visit our online store to view these items)
Our Mission Statement
---
The Littlest Lamb is a non-profit organization dedicated to providing a safe, loving and supportive home for children who have lost one or both parents. Caring for the needs of the children during their formative and adolescent years is our priority. This is achieved through a comprehensive program designed to meet the needs of the children on many levels, including:

• a clean, well-equipped home

• well-balanced nutrition

• physical & emotional well-being

• fostering spiritual growth guided by Christian principles

• standard education & life skills

• child/youth centered environment where children can engage in physical activity and creative projects

The site is located just outside of Cairo, in Ahmed Orabi, within close proximity to schools, hospitals and recreation facilities. Our family, like other families, works to ensure that our children have everything they need to reach their full potential and grow to become self-sufficient adults living productive and fulfilling lives with families of their own.
How is the Littlest Lamb Unique?
---
• 9 acres of land, giving the children enough room to run and play, as children are meant to.

• A family style environment

• Focus on giving them a good education through University level in order to break the cycle of poverty.

• Long range goal of the children becoming contributing members of Egyptian society and leaders of the next generation.

• While they will be trained and supervised using U.S. standards, the Home will be run by Egyptians, for Egyptians.
Architectural Drawings
---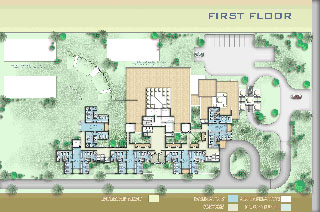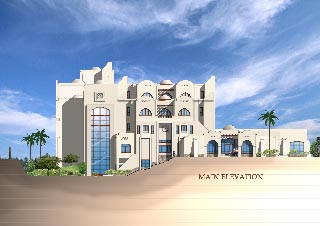 .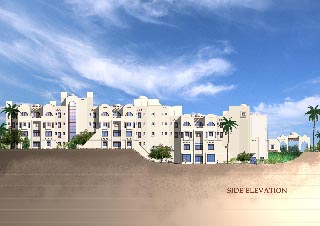 Prelimenary architectural drawings for the Littlest Lamb Home in Ahmad Oraby. Thanks to our architect, Mr. Maher Andrewis, for donating his time and his hard work.
The Land in Ahmad Oraby
---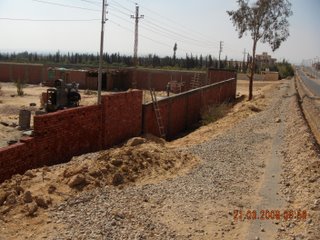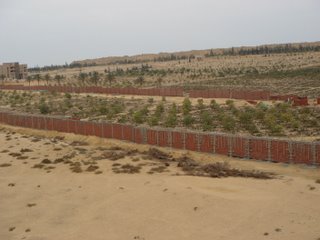 The 9 acres of land in Ahmad Oraby, just outside of Cairo, Egypt.

New Phone Number
Lamby Says: Save the Date!
Barbecue for the Lambs! August 28, 2011
Homemade Cookies for Sale!
Looking for a wonderful, unique gift while doing everything you can to support The Littlest Lamb? Order a homemade cookie basket! Delicious, beautiful cookies are available to purchase. Perfect for hostess gifts, holiday gifts, birthday gifts and more. We are proud that our generous baker will be giving every penny you pay directly to The Littlest Lamb! Shipping available anywhere in the U.S. Details and online ordering coming soon! For more information or to order, email us at info@littlestlamb.org.
The Littlest Lamb Second Annual Golf Classic with Guest of Honor Allan Houston!
Don't Miss This Exciting Event!
Revolution in Egypt
Other News
---
Littlest Lamb's Statement on Terrorist Attack in Alexandria, Egypt
Inaugural Golf Classic with Guest of Honor Mike Breen!
I Love Lamby Worldwide Photo Contest
Third Annual Gala raises over $275,000!
Run for the Lambs Raises over $15,000 for Orphanage!
A Visit from the Sharm British School
Two Recent Events -- Success and Success
Pele to Littlest Lamb: I am part of your team
Perimeter Wall Nearing Completion
The Ground Has Been Broken!
Littlest Lamb Evening at Empire Hotel in NYC
Final Architectural Drawings Approved!
BBQ in the Park!
Mason Runs the Marathon for the Littlest Lamb!
Nader Abadir Runs the Hook Mountain Half Marathon for the Littlest Lamb!
First Annual Party with a Purpose/Superbowl Fundraiser
First Annual Gala a huge success!
Tax Exempt
First Fundraiser